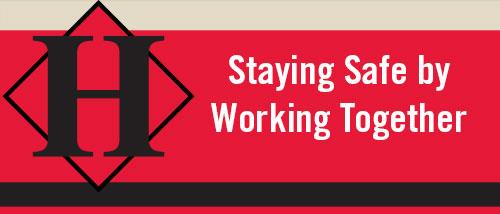 There is no topic more important than the safety and security of our students and the staff who work with them in our schools. Whether it is prevention and mitigation, preparedness, response, or recovery, our district strives to manage every phase of emergency readiness competently and effectively. Our work to strengthen the safety and security measures at Hempfield School District is ongoing. We focus on reflective practice and continuous improvement in all that we do.

Safety and Security Measures

Because of our commitment to safety and security preparedness, the Hempfield School District has the following structures in place.

All-Hazards Plan – Our All-Hazards Plan provides a framework from which we build a safe and secure learning environment with the ability to respond promptly and appropriately in the event of an emergency. This plan is revisited annually and also following any critical incidents, either in our district or across the nation.

Districtwide Safety & Security Committee – This committee is comprised of internal stakeholders to review current structures, practices, and procedures and make recommendations to administration and the school board. This committee also assists with the screening of training provided to staff and students.

District Safety and Security Officer – Working in coordination with our Chief Operating Office and other school leaders, including our building principals, the District Safety and Security Officer spearheads efforts focused on promoting the safety of our schools.

Emergency Management Coordination – We are grateful to maintain close working relationships with local law enforcement and emergency management services.

Memorandum of Understanding – Our district maintains agreements with community organizations to access shelter locations should there be a need to evacuate a school beyond our district facilities.

School Resource Officer (SRO) – This is an East Hempfield Township Police Department officer who is assigned to Hempfield High School during the school year. The main goal of the SRO is to provide a highly visible presence that promotes positive relationships between youth and law enforcement that, in turn, helps prevent juvenile delinquency. Read more about our SRO.

General Practices & Procedures

Building Visitor Procedures – We require visitors to present photo identification upon arrival at any of our school buildings. Using School Gate Guardian software, our buildings log visitors and retrieve data from multiple databases to help our employees make informed decisions about who to admit to our schools.

Surveillance Camera Systems – Cameras are positioned in our buildings and on school buses and are evaluated regularly and upgraded over time.

Professional Development – We provide teaching and learning opportunities for staff related to things such as A.L.I.C.E. Response Procedures (Alert, Lockdown, Inform, Counter, Evacuate) and steps to be taken in more general critical incident scenarios like severe weather events.

Learning Experiences for Students – Various drills such as fire drills, severe weather drills, and lockdown or evacuation drills are examples of measures taken by our schools to prepare students for an emergency. We recognize developmental differences among our K-12 students and attempt to tailor these trainings and drills appropriately in an effort to prepare students without frightening them.

Open Invitation - We want students to grow up seeing police officers as resources, not as individuals to fear. Therefore, we extend an open invitation to our police partners to visit and walk our buildings and interact with students and staff. We believe this to be critical to the promotion of healthy relationships between the school and law enforcement communities.

Social & Emotional Supports – Our Comprehensive Plan includes a focus on addressing students' social and emotional health, which ties closely to maintaining safe, secure school environments. The framework used for academic and behavioral interventions include tiered systems of supports, school-wide positive behavior plans, anti-bullying initiatives, and protocols for handling a concern.

Administrative Searches - As one facet of providing a safe and secure learning environment for our students, we take proactive measures to prevent illegal materials from being present in our schools. All hallway and gym lockers are the property of the school and are loaned to our students. Thus, school officials may search student lockers if the building administrator has a reasonable belief that a student's locker contains an article which is in violation of federal, state or local law, school policies or regulations. Per our school board policy, these searches may include the use of canine units. Any illegal materials found as a result of a search may be used as evidence against the student in disciplinary, juvenile or criminal proceedings.

Additionally, cars located in permitted parking lots are subject to search without additional prior notice. These searches may also include the use of canine units. The search of a student's person and personal property will be permitted when there is a reasonable belief that the student has on his or her person items in violation of federal, state, or local laws. If a search requires a pat-down, the search shall be conducted by a designated school official of the same sex in the presence of another school staff member. The designated school official may use additional security devices to aide in the search. Our desire is that students continue to be part of the solution in helping to make our schools safe places to learn by reporting any illegal materials to an adult.

Shared Safety Language

Faculty Hold – A faculty hold is used for a variety of situations, such as clearing the halls during medical emergencies or to maintain privacy during investigations. There is no imminent threat of danger during a Faculty Hold. This practice allows students and staff to remain where they are so that other essential activities can occur.

Lockdown - If we believe there is an internal or external threat of harm to students or staff, the building will initiate a lockdown to minimize access to the school and secure staff and students in rooms. As part of this procedure, students may utilize the skills learned during A.L.I.C.E. training.

Reunification - This is a procedure used when the school is evacuated or closed as a result of an accident, school violence, threat, or attack. A designated location will be established for parents to reunite with their children following an emergency. This reunification site may be at the school or it may be at an alternative location in cases where the school building has been evacuated.

Shelter in Place - This is a precaution aimed at keeping students and staff safe while remaining indoors. Situations that may require students and staff to shelter in place include natural disasters, severe weather, accidental or intentional release of chemical, biological or radiological material, or an emergency safety situation in the community.

Reporting Concerns

Often, the most important piece of safety and security is obtaining key information before someone makes the decision to commit a harmful act. Receiving tips and information in advance of anything happening allows us to investigate and take proactive steps to prevent harm from occurring. If something does not look, sound, or feel right, we encourage anyone to report the concern.

There are numerous ways for students and parents/guardians to report concerns, including:

Tell an adult (teacher, staff member, administrator)
Send a Schoology message to your building principal/assistant principal/dean of students
Submit an anonymous tip using Pennsylvania's Safe2Say Something website or mobile app.

If something happens outside of the school day, contact the local police department for an immediate response.

When fielding concerns, school administrators start with an investigation. During investigations, administrators are looking for specific details - time, location, and individuals involved. The more specific, the better. Timely reporting is also key to investigations.

School actions or discipline are based upon board policy, the Student Code of Conduct, and federal/state regulations by which school must abide, such as IDEA.

How We Communicate During Emergencies

We work very intentionally to develop and send messages that keep our many stakeholders informed. We focus on providing clear and accurate information before releasing it to the public. While we understand that people may want immediate details, our goal is to provide information as timely as possible, ensuring that what we release is accurate. We also coordinate with our local police departments to ensure that the information shared is clear and consistent.

We use official district communication channels for releasing information, such as the district website, school building enews, and for events that warrant it, we will use the district's emergency communications system to deploy emails, robocalls, and/or text messages. To learn more about how you can stay connected to important updates, visit our Communications Office webpage.

Talking to Children about Violence

We encourage parents/guardians to conduct mental and emotional check-ins with their children. It is important to allow children to learn and process information in an age-appropriate manner, while also preventing any media messages from feeding fears.

For more specific resources on how parents/guardians can talk to students about violence, in addition to trauma and crisis resources, visit our School Counseling webpage.