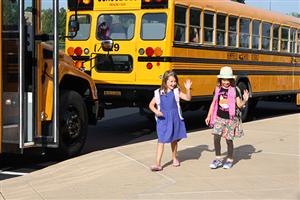 Each school day, students who reside in the Hempfield School District are transported to and from school. Students are bused to the 11 Hempfield student buildings, 26 non-public schools and about 42 IU facilities. Busing is also provided for field trips and other special programs and competitions that Hempfield students participate in. All Hempfield buses are equipped with radios and multiple visual and audio recording devices that help monitor student behavior.

When using Hempfield's transportation services, please keep in mind that students must live in Hempfield School District and be assigned to a bus by the transportation department in order to ride on a Hempfield school bus

Student Safety
Student safety is our first priority. Please ensure your student knows and honors the Hempfield Bus Safety Rules. Please report all student behavior and bullying concerns to your student's Principal for correction. Please report all bus driver related concerns to the Hempfield Transportation Department.



Motorists are required to stop for school buses when the red school bus lights are flashing. If you approach a bus with the amber lights flashing, brake and come to a stop so that children waiting to cross the street can do so safely.

Important Forms and Documents
| | | | |
| --- | --- | --- | --- |
| Hempfield School District & IU13 | Penn Manor School District | Columbia School District | Non-Public Student |
| | | | |
Requests for special transportation in accordance with Alternate Care/Dual Custody Guidelines require parents/guardians to submit a completed form to the Transportation Office for review and approval.
Non-Public Student Transportation
Non-Public students desiring to be picked up at an afternoon Hub, must complete the Hub Pick Up form to designate the Hub as your student's stop.
Student Transportation of America is the bus contractor for Hempfield School District. They can be contacted at 717-459-3803. Anyone interested in becoming a school bus driver may contact STA directly.