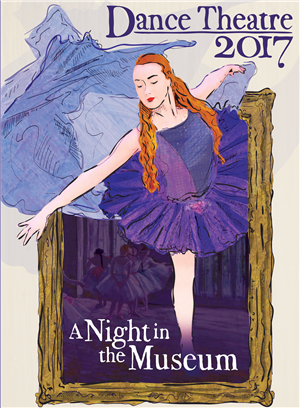 Hempfield High School proudly presents
A Night in the Museum
as the 33
rd
annual Dance Theatre production. The performance will take place from Friday, May 12 through Sunday, May 14, in the Hempfield High School Performing Arts Center. The Friday and Saturday performances will be held at 7:30 p.m. while the Sunday matinee occurs at 2:30 p.m.
A senior citizen preview performance of A Night in the Museum is slated for Thursday, May 12 at 7:00 p.m. This dress rehearsal is free to all residents of Hempfield School District, ages 65 years and older. Tickets/preregistration are not necessary for this Thursday event.
Synopsis
The 2017 production, created and directed by Cody Smith, promotes the importance of art in our schools and our community. With the use of multi-media technology and the language of dance, the world's most iconic works of art will come to life.
Experience Degas' ballerinas as they dance off of the canvas. Feel the movement of Monet's Water Lilies, Van Gogh's Starry Night and the haunting quality of Munch's The Scream.
The audience will explore the rise of various art movements including Graffiti Art, Abstract Art, and Surrealism.
A Night in the Museum also explores the world of sculpture. Watch as performers morph from one famous sculpture to the next. The show broadens to include a natural history exhibit that illustrates the two-dimensional qualities of Egyptian art, the ceremonial masks and totems of African, Native American, and Aboriginal tribes, and even a prehistoric T-Rex. The evening ends as the audience explores the planetarium and the well-known space race.
Cast
Dance Theatre has a cast of more than 100 student dancers. Senior principal dancers include: Bethany Joyce and Rachel Smith. Junior principal dancers include: Audrey Kepple, Grace Bruckner, Jordan Hooks and Emily Young. Sophmore principal dancers include: Megan Kosmela, Rachel Male, Alaina Simmons, and Katie White.
Tickets
All seating is reserved. Cost is $12 for adults and $10 for students/children and seniors (age 65+). Public ticket sales begin April 3, 2017. Tickets may be purchased in the following ways:
At the box office on Wednesday, May 10 from 4:30 p.m. to 6:30 p.m.
The box office will open 45 minutes prior to show time for ticket sales