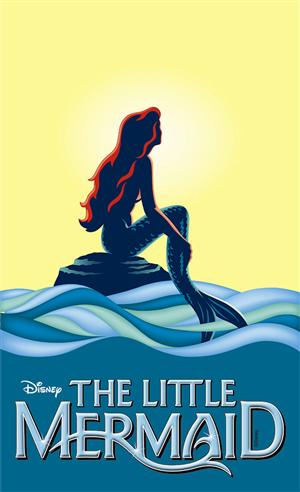 Hempfield High School proudly presents Disney's The Little Mermaid as the 2017 spring musical. The performance will take place from Friday, March 3 through Sunday, March 5 in the school's Performing Arts Center. The Friday and Saturday performances will be held at 7:30 p.m. while the Sunday matinee occurs at 2:30 p.m.

Hempfield's 2017 stage production is based on the revised 2012 story. The production will feature a cast of 49 student performers and an all-student orchestra directed by Dr. Alan Mudrick and stage director/choreographer Cody Smith.

A senior citizen preview performance of The Little Mermaid is slated for Thursday, March 2 at 7:00 p.m. This dress rehearsal is free to all residents of Hempfield School District, ages 65 years and older. Tickets/preregistration are not necessary for this Thursday event. At intermission, Mennonite Home Communities will host a senior citizen cookie break.

Synopsis
Ariel is a beautiful mermaid princess who lives in an enchanted undersea kingdom and has a beautiful singing voice. She should be happy, but she is a passionate, headstrong teenager, and desires what she cannot have – life on land!

When she rescues and falls in love with the handsome human Prince Eric during a storm at sea, Ariel is more determined than ever to gain her heart's desire. She defies her furious father, King Triton, and bargains with her evil aunt, Ursula, who demands Ariel's beautiful singing voice as the price of entry into Prince Eric's world. With the help of Flounder, Scuttle, and Sebastian, Ariel, works to gain the love of Prince Eric without being able to speak. If they fail, she will lose it all, including her soul, to the ambitious Ursula!

Based on the classic Hans Christian Andersen fairy tale, and the popular Disney film, this live musical staging of The Little Mermaid features the familiar, humorous, and whimsical book and score, including the high-spirited and persuasive "Under the Sea," the romantic anticipation of "Kiss the Girl," and the universal anthem of longing and belonging, "Part of Your World."

Cast
Principal cast members include: seniors, Cole Swiernik (King Triton), Marissa Sterner (Ursula), Amanda Grube (Scuttle), and Luis Abreu (Sebastian); junior Jordan Hooks (Prince Eric); and sophomores, Cora Siburt (Ariel) and Katie White (Flounder).